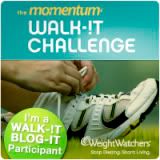 Part of Weight Watchers Walk-It Challenge was that by the end of the challenge participants would register for a 5K. A few weeks ago I shared with you my experience of running my first 5K and after successfully finishing it I couldn't wait to sign up for my next one, which I ran Sunday.
This time, I ran with my friend Lynette, who just recently began running. She was training at a much faster pace than I run, but would also stop to walk so I figured we would even each other out. We were a great team because she pushed me to run faster as I didn't want to slow her pace and she said I encouraged her to keep running so we could run together and she wouldn't get lost on the course. Although I don't think I'm the one to follow when it comes to staying on course.
Speaking of course, let me just say that this was not just another road race, but we are talking all-terrain racing. We tackled sand, grass, mulch, and gravel. Oh and did I mention that it was raining. At first just barely spitting which felt refreshing, but then we ran right through a full on rainshower with the wind to go with it. We stuck it out though and finished the whole course!
Lynette ran her first entire 5K and
I made my goal of completing a 5K in less than 40 minutes
(thanks to hubby who was near the finish line encouraging me to run quicker because I had 45 seconds to meet my goal...I love that guy!)
So now it's onto the next race. I am registered for one over at my parents house the first weekend in June, but I just may have to find one to run even sooner!